RESERVE YOUR EP GUITAR WITH A 50% DEPOSIT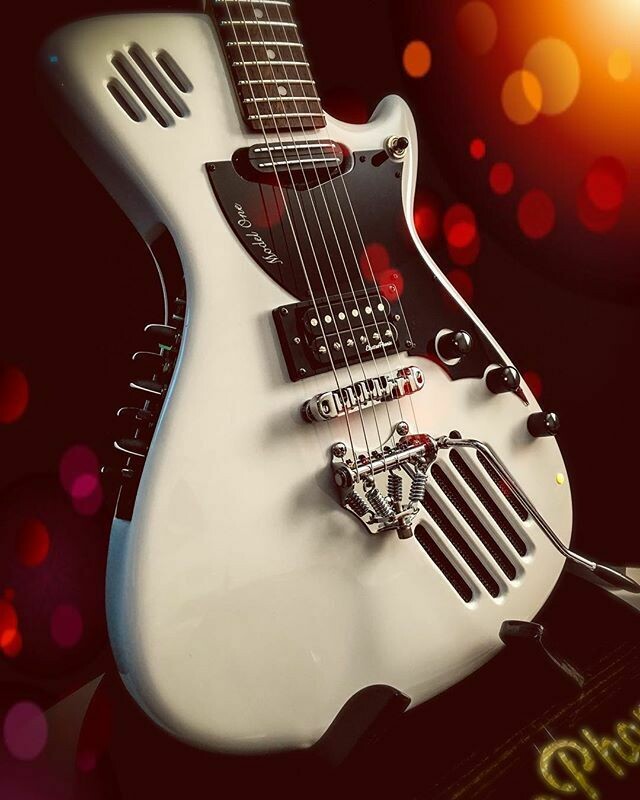 Model One™ Self-Amplified Guitar
SKU 02
Product Details
Flash Sale!!!
10% off the price of this guitar. Was $1050.
30 Day Return Offer... See details below.*
"MODEL ONE" GUITAR with onboard 18-watt amp, discrete analog effects, and stereo speakers. Get amazing cabinet-like tone-to-go right out of the guitar. Designed and built in the USA. Contact us about custom options.
• Carolina Poplar body
• Rock Maple 22 Fret Neck 24.75 scale
• 100% analog front end pre-amp
• Artisan craftsmanship on all bodies and necks
• Discrete Analog Delay
• Discrete Analog Chorus
• Amp modeling & EQ
• Performance control of all functions
• 18 watt stereo amp with Twin Full-range speakers
• Smartphone connectivity
• Rechargeable Li-Ion batteries and charger
• Magnetic Quick-change battery cover
• Humbucker pickups
• Privacy headphone jack
• D.I.Recording output with full effects
• Standard output jack for amp or P.A.
• Input/output for phone/computer/ipad
• Weighs 8.7 lbs.

Fretboards:
Options include Maple, Ebony, and Rosewood.

*30 Day Return Offer
If for any reason you're not completely satisfied with your ElectroPhonic Innovations guitar, simply contact us within 30 days of your delivery date and we'll give you a full refund of the purchase price, excluding return shipping charges, which will be deducted from the total refunded amount. It's that simple.
Returned items must be in near-original condition and show no signs of wear or use. We're sure you'll understand.
With the exception of the batteries (do not send them back), your return shipment must include all original packaging, battery charger, tremolo, and any other items that we sold you. Your return may be subject to a re-stocking fee for returns that are not in good enough condition. Items with excessive wear or damage may not be accepted for any refund.
Procedure
Contact us by email at support@electrophonicinnovations.com and notify us of your intentions.
Include an explanation of the reason for returning the guitar.
We will respond within 2 days with an estimate of the return shipping costs.
Upon agreement on the return shipping costs, we will email you a UPS shipping label and Refund Confirmation.
Pack your guitar in the original box and/or case and include all accessories (do not send the batteries back. They are our gift to you). This must be done within 48 hours of receipt of the Refund Confirmation that we will send you.
Once your guitar is returned and inspected by us, we will notify you of any restocking fee, and confirm the amount of your refund. Our goal is to refund 100% of your purchase price if you are not happy. We hope that you understand that that will not always be possible.
Save this product for later